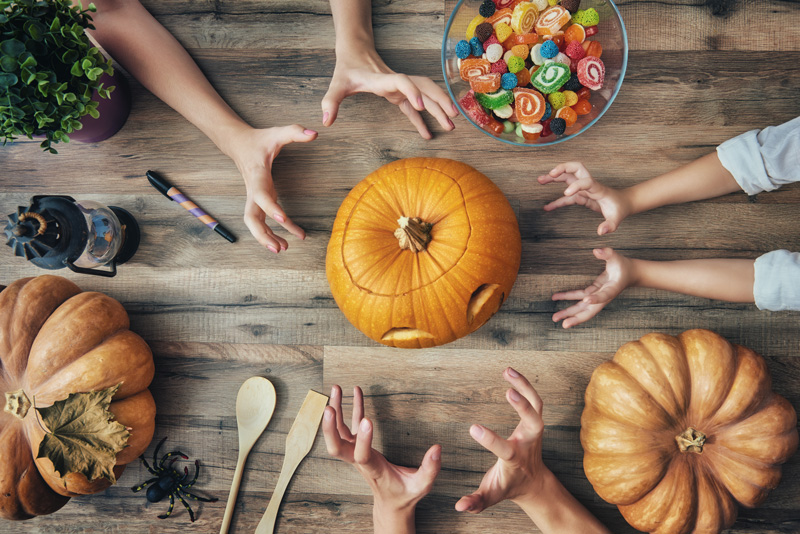 Halloween Decorating Tips
Decorate your home beautifully with these great Halloween decorating tips.
Halloween is a great holiday in which we dress up as our favorite characters from TV, film, and history. It's also a holiday where we spend time with our friends and family–our children go out trick-or-treating to collect as much candy as humanly possible, and the adults enjoy eating the left overs. If you want to go big this Halloween and decorate your home with the festive spirit, follow these great Halloween decorating tips.
Stack Your Pumpkins
Pumpkins and Jack-O-Lanterns are the number one sign that Halloween is right around the corner. A stack of pumpkins on each side of your door will tell kids that your house is trick-or-treat ready!
The Eerie Entrance
Every home that wants to partake in Halloween needs an eerie entrance. Cobwebs, branches, scary jack-o-lanterns, and fake tombstones are the traditional decorations.
Spooky Buffet
If you are hosting a Halloween party, your food table should be in the spooky spirit of Halloween. Introduce your food with a split-open skull, ghost-shaped cookies, and add some plastic spiders to the table to really scare your guests. Offer some healthy treats like veggies and dip to offset the night of sugary overindulgence.
Fix the Foyer
The very first thing your guests will notice when they walk in the house is the foyer. Set the tone immediately by giving them a spook with bat-covered branches placed in a hollow pumpkin, and set out some colorful treats for your guests to enjoy.
There is nothing spooky about the beautiful furniture we make at La Bella Cosa. Don't hesitate to contact us if you want quality furniture that provides comfort, function, and style. We at La Bella Cosa, located in Culver City, CA, know that you want the very best custom furniture and we're here to provide exactly that.