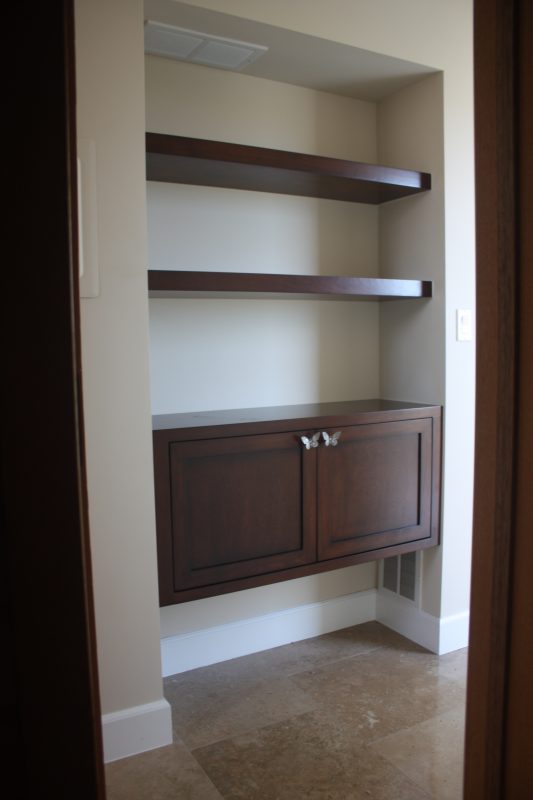 How to Decorate an Odd-Shaped Room Or Area in your home
Tips to decorate odd areas in your home.
If your home is more quirky than traditional, you may find that there are unique alcoves, rooflines, and generally odd-shaped spaces. Perhaps this is what drew you to the home itself. If so, you'll want to decorate the room to accentuate the space, without losing the uniqueness.
To decorate an odd-shaped room efficiently, read on.
Create Storage
Homeowners living in small spaces understand the necessities of space. Choose a custom furniture piece that overcomes awkward alcoves, dens, and curved walls so that you utilize wasted space, turning them into useful storage solutions. We took a useless alcove with a vent on the ceiling and a vent on the floor and made a custom floating cabinet with floating shelves. We gave the clients storage as well as an aesthetically pleasing addition to their home.
Be Smart in Choosing Furniture
You'll want to accentuate the room's uniqueness, not block it. If one wall is curved, complement the shape by choosing an L-shaped sofa. For narrow spaces beside a doorway, hang art instead of trying to fit a piece of furniture there. For awkward corners, place an antique chair and table. Get creative by
choosing complementary colors and furniture to keep in tone with the home's natural décor. Simplify the room by taking away clutter and multiple furniture pieces. Instead, choose a custom piece of furniture that is multi-use and highly efficient.
Choose Custom Furniture
If you can't find a piece of furniture that works for you, choosing a custom design is ideal. Original works can be designed and made according to your specifications so that you get to maximize space, complement the odd-shaped room, and enjoy a timeless piece that is entirely yours. Bespoke furniture compliments your unique room by being one of a kind. Custom-made furniture is no longer considered a luxury. You get to mix and match your own preferences, creating an endless variety of options.
At La Bella Cosa, we're dedicated to providing every client with custom pieces that suit their exact specifications. From bookcases, tables, chairs, and more, homeowners get to enjoy their home and furniture piece for many years to come. Visit us today in Culver City, California or call us to get started on your custom furniture piece.